Food Garden Market is a grocery store located in the Crown Heights neighborhood of Brooklyn, New York. Opened in late November 2019, the supermarket specializes in providing a premium quality selection of organic and natural foods. It offers a variety of services, including a butcher shop, fish market, juice bar, beer garden, and bakery. It also sells prepared foods, including sandwiches and pizza, while also offering a salad station.
A Store Design That Fits the Space
When Food Garden Market began development, they had an idea on the food they wanted to sell and the dedicated spaces to sell them. The critical issue was how it would all look, and how it would fit into such a small, unique space. That's why they decided to call in a design service, and eventually reached out to DGS Retail. They had specific ideas with what they wanted not only just for the decor but the equipment, seeking a custom solution. "This store had really challenging parts with height, elevations and square footage," said William Duran, owner of Food Garden Market. "Customizing everything down to the exact measure was pretty key."
Moreover, customer sentiment was important, as this store was located on a highly trafficked street in Crown Heights, Franklin Avenue. "We wanted a warm, inviting space that showcases our large selection of specialty items," Duran said.
.
Custom Store Equipment and Decor
With the custom look being critical to the design, DGS Retail took Food Garden Market's raw floor space, and divided it into distinct department zones dedicated to selling one type of food or another. This formed the basis of DGS' detailed fixture layout. Areas such as produce, cheese and the butcher shop had their own unique floor plans.
Customization was also taken into consideration with the equipment. DGS Retail's design team went into painstaking detail creating ideal displays and counters using only stock items. This shows in the store's hot and cold bars, even in the checkout stands. To mesh with the store's overall feel, a barn-style hardwood was used for the exteriors, with a black granite serving as the countertop material. In addition, the design team developed mobile orchard bins from stock products that enabled the store to change its layout on the fly. All of these equipment items were brought to life via a mix of 2D sketches and 3D renderings.
This followed into the interior design. The design team combined 2D elevation drawings with 3D renderings to develop the decor and signage, giving each a space a distinct and memorable look. All aspects of the decor, from the sign color to the display materials, were built to the design team's specifications. To help make Food Garden Market stand out from its competitors in Crown Heights, the team performed extensive research on other markets as well as trends within the grocer industry.
Easy Store Design and Installation
Crucial to the success of the design of Food Garden Market was communication. Despite being a considerable distance from the store, the DGS Retail team in Chicago maintained regular contact with Food Garden Market, which helped keep the process efficient. The store was greatly approving of DGS Retail's ability to listen and put feedback to immediate use. The 3D visualizations greatly helped the process along, since it gave stakeholders at the grocery store a very clear picture of what their store would look like from the design and equipment standpoint.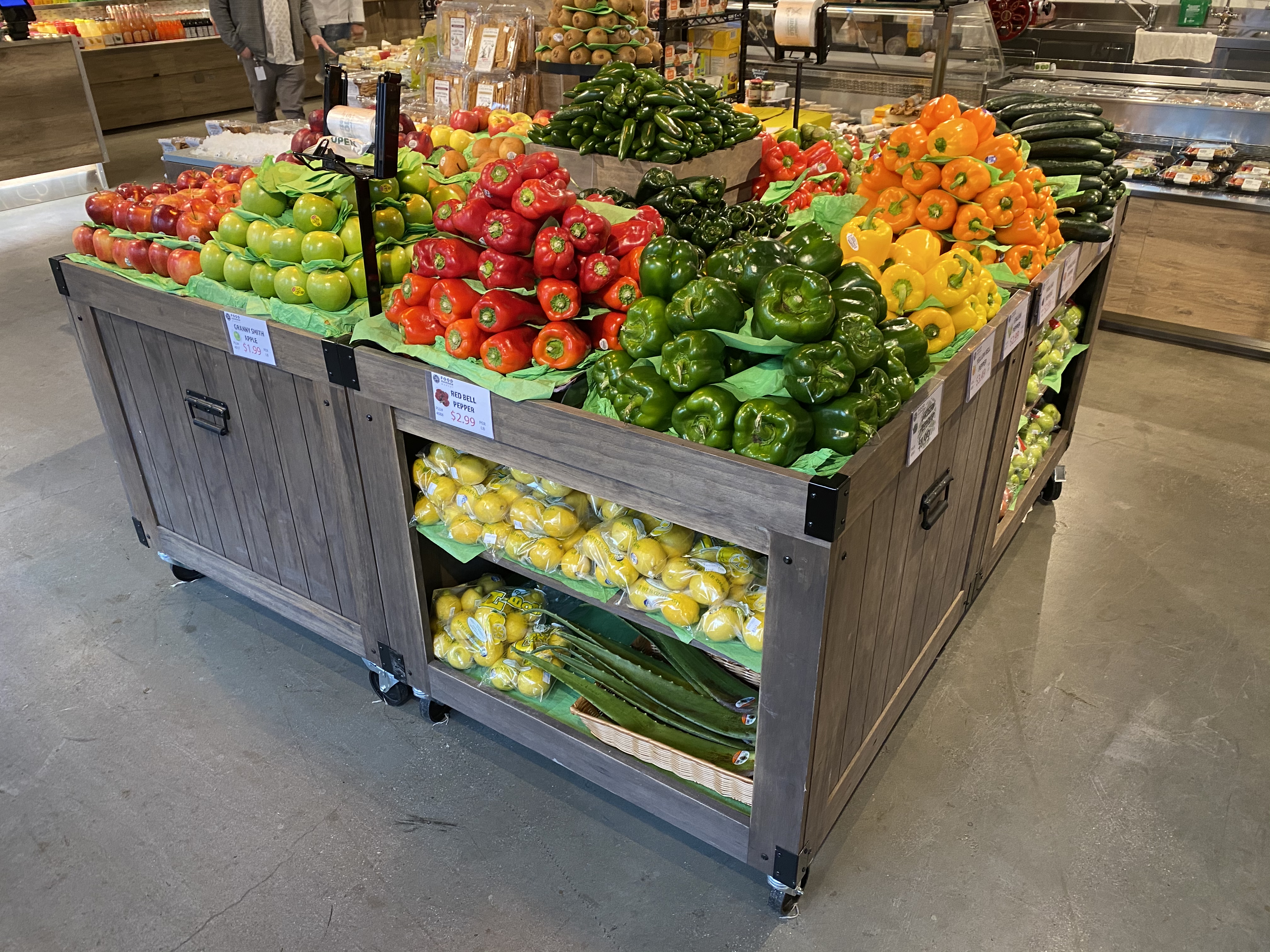 When the design process was complete, not only did DGS Retail offer an equipment quote, but delivered the equipment and signage straight to Food Garden Market. All the items were packaged in a manner that made installation very easy. "You're almost putting a model car together," said Duran. "Everything has a number and a piece. So it was pretty simple to put everything together." DGS Retail also supplied Food Garden Market a workbook that functioned like an instruction manual on how to put the final design together in store. This proved extremely helpful.
Food Garden Market was extremely impressed by both the decor and the equipment. The soffits stood out for the store, as did the moss-based wall displays. Most useful was the mobile orchard bins. "The square crates with wheels are awesome because it allows us to manipulate the layout so often," Duran said. "You can do a wholly different display depending on the season."
Successful Store Opening
On November 21, 2019, ahead of the all-important Thanksgiving holiday, Food Garden Market opened. The response has been phenomenal: Despite doing virtually 0 advertising, the store has had exceptional overall sales. Customers have been coming in regularly and are impressed with the overall look of the store. "Everybody comes in and they just feel like they're invited into the store," Duran said. "I've gotten nothing but compliments about what we did here."
This feeling is shared in online customer feedback. One review from Google Customer Reviews—where the store has a 4.9/5 average rating—said "I just may live in the neighborhood because of this place." Another review from Yelp—which gives Food Garden Market a 4.5/5 average rating—said, "I'm pretty impressed as well with the layout and options."
Food Garden Market's successful opening demonstrates the potential of a great store design from DGS Retail. To see how DGS Retail can help you design the ideal grocery store, check out our Free Store Design page today.