Tin Woodman's Flask Wine and Spirits is a liquor superstore located in Chittenago, New York. It's part of the Emerald City Plaza complex owned and operated by the Oneida Indian Nation, including Yellow Brick Road Casino. The 17,000-square-foot store contains more than 100,000 bottles of wine and spirits, making it one of the largest liquor stores in Central New York State. Its selection includes not only a large variety of craft brands, but many brands local to the state and region. It also offers regular classes on liquor, including one on wine by an Advanced Certified Sommelier to teach the basics on wine and food pairings among other important details.
Building a New Store Layout
The Oneida built Tin Woodman's Flask with support from architectural firm Hayner Hoyt. To develop a layout that suits the needs of their client, Hayner Hoyt turned to DGS Retail for a free store design. Their goal: To have a continuous look and feel in the store while at the same time have subtle elements that differentiate the various sections. Critical to this was the use of black gondola shelving with mahogany wood accents.
To address this, DGS Retail approached each of these sections in distinct ways. To start, we approached the spirits section, split in two between standard and top shelf bottles, in different manners. The standard subsection focused on maximizing shelf capacity, which required tall wall gondola shelving units and retail island displays. They utilized wood back panels and shelf trim, each matching stain color. For the top shelf items, Hayner Hoyt was looking for an open atmosphere and feel to better emphasize the products. We answered by adding wood dump bins to the gondola shelving, giving a more comfortable look. On top of this, we utilized multiple 54"H x 48"L islands over standard aisle layouts to provide better navigation.
The center section of the store utilizes two 36-foot island sections, which are inline with the entrance. Its location created an emphasis on popular beer/wine products that customers can grab and go. To give a distinct line between these runs and the wine section next to it without obstructing the views, we used five sets of 6 wood crate inspired bin stand displays in island configuration, 30 in total. It made it possible for Tin Woodman's Flask to better highlight new and featured products. Finally, the wine section itself made use of both wall and island gondolas, maintaining the consistent feel of wood back panels and shelf trim. We added two end caps with color-matched wood shelves to make it look more upscale.
Providing Flair With Custom Displays
In addition to using our standard liquor store shelving units, on the customer's request, DGS Retail developed some special, custom fixtures for this store. These included a custom shelving unit with locking clear doors to display very high priced spirits bottles and other items. This locked liquor store shelving unit was a retail island, 96 inches wide by 84 tall and 47 deep with matching wood-grain side panels. It was positioned near the checkouts to gain maximum exposure to shoppers and to increase impulse sales of these high margin wine & liquor products.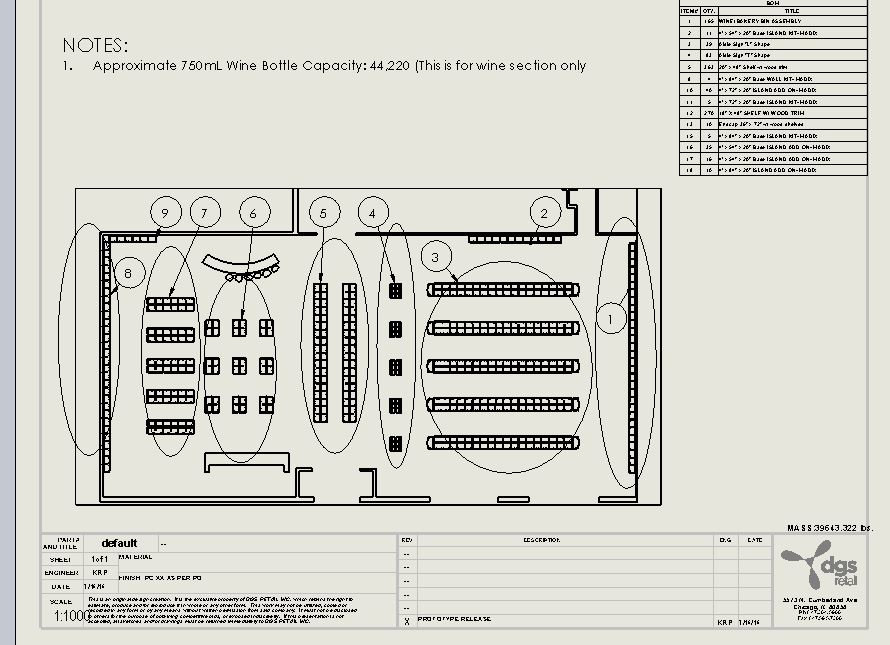 Planogram of Tin Woodman's Flask.
Adding Clarity to A Large Store with Aisle Signage
While Tin Woodman's Flask is a large store, the overall initial design process took DGS Retail only 2 full business days to complete. This included critical reviews, such as checking the layout for aisle visibility and customer flow patterns, as well as ADA compliance. Building obstructions, such as columns and other architectural details, were taken into account during the store layout process as well.
For this store design project, we provided additional recommendations. One thing we noted was the store's size would make it very easy for a customer to get lost. It would also make it hard to find specific products, be they a varietal of wine or craft beers from a particular location. That's why we suggested the client use aisle signs for all of its gondola shelving. It would enable the customers to better locate the products they want.
After initial designs were approved, it was discovered that the store layout was set on an older architectural plan. The final plan had additional pillars and back room doors that were not accounted for. In the face of a hard deadline, DGS Retail made adjustments on the fly that suited the client well, thanks to clear and effective communications.
Gondola Shelving and Store Fixture Installation
DGS Retail manufactured the gondola systems and displays and also handled the installation of all store fixtures. Utilizing a nation-wide network of installers, DGS Retail coordinated the shipment of all the store fixtures and shelving units so that they arrived on the jobsite during the specified time window. Our skilled carpenter-level installation team then went to work and assembled the whole store to customer specifications within 4 days. As a result, Tin Woodman's Flask opened on time and under budget.
Successful Store Launch
Tin Woodman's Flask opened in November 2017. It quickly proved to be a successful and popular endeavor, garnering attention both within the region and the wine and beer industry. In June 2018, the store received the Retailer of the Year award from leading publication Beverage Dynamics. The award was granted for, among other things, providing a unique guest experience. This was no doubt enabled by the store design provided by DGS Retail.
The success of Tin Woodman's Flask demonstrates the potential of DGS Retail's free store design. It can turn any liquor store into a professionally designed location with high sales revenue. For more information, check out our store design page today.